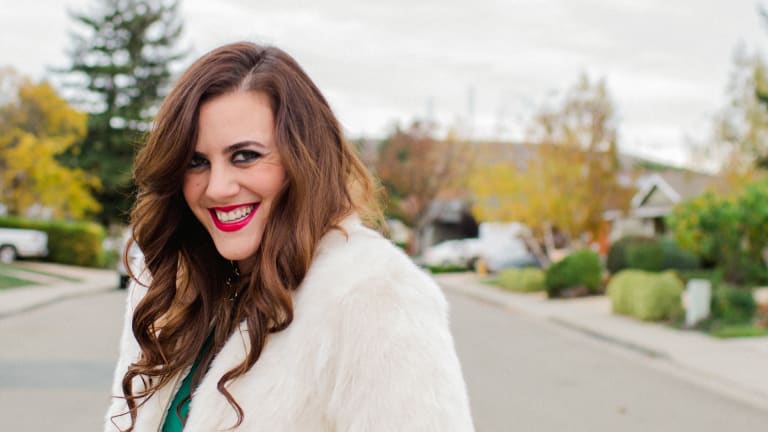 Head Over Heels with Melanie on Embracing Your Unique Style
When it comes to style, I'm somewhat of a low-maintenance gal. I know what you're thinking: a stylist who is low maintenance? Yep. It's true. I don't believe that having style means you have to be fancy. In fact, I don't think that has anything to do with it. Instead, I think there's a healthy middle ground, somewhere in between glitter heels and ripped (not in the good way) sweatpants.
If I'm being honest, ever since I had my daughter I've been living in the "safe" in-between zone when it comes to fashion. I've been in a style rut where I have my few go-tos—and I am definitely going to them. Even on dates, I don't really wanna step outside of my comfort zone. Of course, feeling stylish is always a part of my game plan, but I realized that I had to challenge myself a little more. So this holiday I decided I'm gonna go for it. It's time to amp up the makeup, pump up the volume on the hair, and rock some seriously fun outfits.
Three key things I did to step out of my comfort zone and into a more festive and unique holiday wardrobe:
01. I didn't come in with a plan.
If someone said, "Melanie, go find a green jumpsuit," I wouldn't be able to find one. When shopping this time around, I kept an open mind and allowed the amazingness to find me. As I always say, if you are intrigued (at all) by something, always try it on.
02. I was inspired by the movies.
As a former costume designer, I used to be very inspired by the movies and theater. When putting together this look, I thought about a movie that has been inspiring me. So I did my favorite Amy Adams a la American Hustle impression and went to town on the green jumpsuit and white fur coat. My goal with this look was to make it feel vintage and modern at the same time.
03. I wore much more dramatic makeup and hair.
This was a real departure from my normal hair and makeup routine. If there is anything I really play it safe with, it's this. My uber-talented friend (who also happens to be the best hair and makeup artist around) Melissa Hoffmann came over and nudged me into a new fun direction. A green smoky eye and long, voluminous princess hair? I'll take it!
Once I got going, I was having so much fun I couldn't stop. I wore more accessories than normal. I decided to do a gold glitter feature nail on my mani. Even my clutch was oversized. Now I'm going to need to remind myself that it's OK to turn down the look for a playdate!
This holiday season, why not go a little more "out there" with your clothes?  Everyone is going to holiday parties and wearing sparkles galore. It's the perfect time to challenge yourself! Tag me @hohwithmelanie, #confidentstyle, and #verilystyle so I can see! Let's go for it together; 'tis the season!
Styling, Melanie Kluger of Head Over Heels With Melanie, @hohwithmelanie on Instagram and Twitter, as well as Facebook! / Photography, Krista Marie Lynch @krista.marie.photography, Facebook / Hair and Makeup, Melissa Hoffmann, / @melissahoffmanbeauty, Facebook