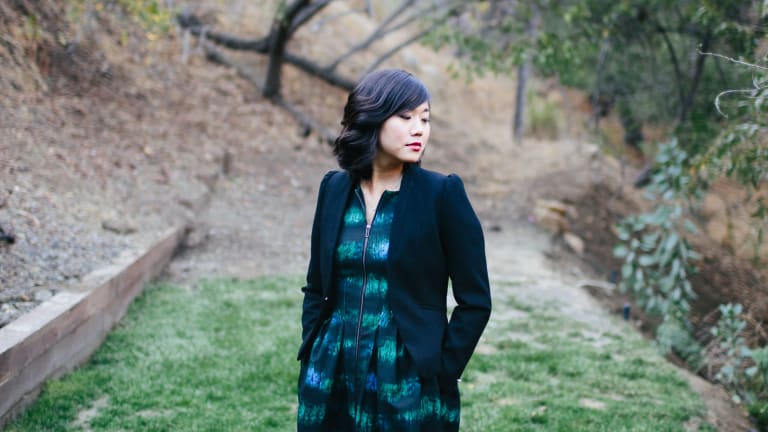 Layering Tricks to Flatter Your Figure
Whatever your body type, here are some tricks for flattering layers.
Learning how to layer different staple piece to flatter your figure can be intimidating, and many women—like me—try to steer clear of wearing multiple pieces for fear of looking bulky or frumpy. But combining the right items, like a cropped jacket and dress or leggings and a maxi (yes, really!) can actually accentuate and highlight your form. Who doesn't want to wear an extra layer or two during this winter-y season?
We had Megan Evans, founder of The Well Coiffed Closet and stylist for our previous feature "Find the Perfect Jeans to Fit Your Body Shape,"give us a few pointers on how to layer for your body shape. Special thanks to our lovely volunteer models—who we can envy from afar for their sunny L.A. weather.
"With a tall and lean form, Erica can pull off long layers, like this midi skirt with a cropped top and short jacket, both of which help define her waist. I love the mix of navy, black, and brown for fall and winter."
/
/ Jacket and jewelry, Erica's own
 SHINAY//HOURGLASS
"With Shinay's hourglass shape, we wanted to tastefully highlight her waistline and beautiful legs. This high-waisted pencil skirt lengthens her form and gives structure, while the belt cinches her waist. The cropped jacket and longer, untucked top add a bit more length to her silhouette and balance her curvy form."
Biker Jacket,H&M, $60 / Denim Top, H&M, $30 / Skirt, H&M, $13 (similar ) / Belt, Madewell, $45  / Necklace, Madewell, $35 / Wedges, Shinay's own
SHIR-EL//PEAR
"For Shirel, creating a longer line is key, and this sheer maxi dress with slits up each side gives her just that, while still showing she has legs! This great H&M jacket hits her at the perfect place below her hips, which helps balance a pear shape and again, creates and accentuates that long line you're trying to achieve. Black pump wedges are just the icing on the cake."
Maxi Dress, Press Collection, H&M /
 (similar) /
(similar) /
(similar) /
(similar) /
MELISSA//PETITE
"We needed to create some angles and curves for Melissa's petite, straight frame, so I put her in a fit-and-flare dress with a blazer. The skirt gives her hips, while the top emphasizes her waist. The zipper on the front comes down to a V-neck, which also elongates her overall silhouette and frames her beautiful face."
Dress, H&M, $40 (similar) / Blazer, H&M, $35 / Earrings, Madewell, $28 / Cuff and shoes, Melissa's own
Be sure to check out The Well Coiffed Closet and follow Megan on Instagram, Facebook, and Twitter @coiffedcloset!