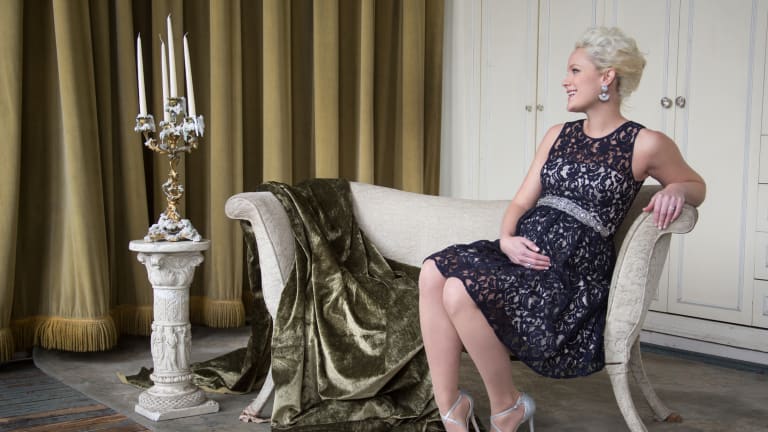 Gorgeous Holiday Party Wear For Every Style
To celebrate the most wonderful time of the year in Verily style, we're showcasing a range of elegant and glittery outfits, perfect for all your holiday soirees this month. We gathered a few of our lovely volunteer models to play dress up in gorgeous holiday party wear. Aren't they stunning?
We enlisted the help of Dallas and NYC-based stylist Tamara Gaudin to inspire us with ensembles beyond the Little Black Dress box (although we still love a good LBD!). This yuletide season, try embracing color and fun textures such as brocade, lace, and fur. It's the holidays—have a little fun!
GLAM//DENISE
Sparkles and fur? It doesn't get more glamorous than that. Denise's petite frame is perfectly highlighted with this strapless, A-line black and gold brocade dress. The well-fitted top hits her high enough for coverage, while the full circle skirt comes just above her knee, adding length to her form. Throwing a faux fur wrap over one shoulder and chicly tucking it into her belt steps this outfit up a notch and adds warmth. The glittery gladiator heels keep the outfit young and modern.
Dress, Anthropologie, $248 / Faux Fur Wrap, Sue Wong, Bloomingdales, $208 / Belt, Glint, Nordstrom, $48 / Shoes, Michael Kors, Bloomingdales, $164 / Bracelets, Natasha Couture, Nordstrom, $38 / Earrings, Stylist's own
BOLD//CHRISTINA
A bright, bold, head-to-toe hue is gorgeous for this festive time of year. Wearing separates in a similar tone is super modern and trendy—and the best part is they don't have to perfectly match. By mixing the textures, you'll be sure to break up the look, like we did with this fun and furry sweater and embroidered floral A-line skirt. Tucking in the sweater defines Christina's waist, and statement jewelry with uber sparkly pumps brings in the holiday cheer.
Sweater, Halogen, Nordstrom, $68 / Skirt, Anthropologie, $188 / Shoes, Kate Spade, Bloomingdales, $328 / Bag, Shiraleah Chicago, Nordstrom, $48 / Necklace, Sole Society, $35  / Earrings & Cuff, Stylist's own
FEMININE//MARI
Ethereal lace and pearls are oh-so feminine and retro. Mari's skin tone pairs beautifully with this creamy white ensemble. (Yes, it's OK to wear white and off-white throughout the winter!) The contrast of opaque black tights and modern black booties, with a bit of sparkle of course, keeps the outfit from looking too dated. A darling headband and chic low-bun, plus matte red lipstick, gives the vintage-y look a fresh twist.
Top, ModCloth (similar), $45 / Skirt, Modcloth, $70 / Headband, Stephan & Co, Nordstrom, $16 / Tights, Commando, Nordstrom, $34 / Booties, Via Spiga, Bloomingdales, $395 / Earrings, Nordstrom, $44 / Bag, Zara (similar), $60 / Necklace, Stylist's own
RETRO//DANIELLE
If Danielle doesn't look like she belongs in a Fred Astaire flick, I don't know who does! This elegant and show-stopping ruby midi dress with a feathered trim is a Christmas classic. The A-line silhouette highlights Danielle's shapes, and the longer skirt falls becomingly over her slightly pear shape. The V-neck frames her face and lengthens her form. To not take away from the dress, or her, all Danielle needs are statement chandelier earrings and simple gold strap heels—brava!

Dress, Tracy Reese, Anthropologie,  $250 / Shoes, Via Spiga, Bloomingdales, $250 / Earrings, Tasha, Nordstrom, $38 / Cuff, Stylist's own
CLASSIC//HALEY
Haley is expecting in a little over a month (can you believe it?) and absolutely glows in this super chic, sleeveless A-line lace dress. And no, this is not a maternity number. The universally flattering A-line silhouette hits her high enough in the waist so that the round, circle skirt drapes over her midsection beautifully, showing just a tad of her baby bump. Strappy heels, statement jewelry, and a sparkly belt to cinch her waist are the icing on the cake.
Dress, Eliza J, Nordstrom, $106 / Bag, Shiraleah Chicago, Nordstrom, $58 / Ring, Ariella, Nordstrom, $38 / Earrings, Nordstrom – BaubleBar (similar), $20 / Shoes, Ivanka Trump, Bloomingdales $130 / Belt, Glint, Nordstrom, $48
MODERN//CHRISTINA
Christina is a great sport and stuck around to model a second, more funky option. Her tall frame is made for long silhouettes and layers. A colorful, dark floral jumpsuit may seem counterintuitive for the holidays, but adding layers of texture, like this silky embroidered jacket and soft faux fur vest, creates a rich look without drowning her. A black belt shows off her waist, and ankle-strap heels refine the overall funky and trendy look.
Jumper, Piperlime, $98 / Beaded Jacket, Stylist's own / Fur Vest, Nordstrom (similar), $248 / Shoes, Zara, $45 / Rings, Topshop, Nordstrom, $28 /Bag, Stylist's own / Earrings, Tasha, Nordstrom, $30