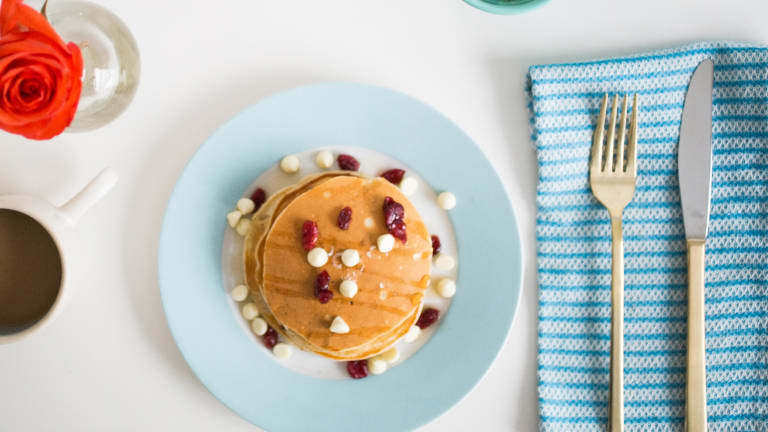 Holiday Breakfast in Bed: Cranberry and White Chocolate Pancakes
This breakfast recipe is a true classic that your loved ones will enjoy this holiday.
This is the time of year we cherish the most. Moments with friends and family, time off work, and of course, good food. What could be better than waking up your loved ones to fresh, fluffy pancakes this holiday? This recipe is packed with healthy ingredients like whole wheat and Greek yogurt. And it can be personalized to your own tastes and preferences with toppings. On Christmas, I love to add dried cranberries and white chocolate chips to mine. It's festive and is a perfect combination of tart and sweet.
If you want to lighten this dish up, it is easy to substitute the eggs for 1/2 cup pumpkin puree or applesauce. While either option is delicious, using eggs will ensure a lighter, fluffier cake.
Cranberry and White Chocolate Pancakes
Serves 3
Ingredients
1 tablespoon sugar
1 ½ cups all purpose flour
½ cup whole wheat flour
1 ½ teaspoons baking soda
1 ¼ teaspoons salt
¼ teaspoon ginger
2 eggs
¾ cup Greek yogurt
1 ½ tablespoons butter for batter, softened to room temperature
1/3 medium mashed banana (about 1/4 cup)
1 1/3 cup milk (I used almond milk)
1 tablespoon butter (for griddle)
¼ cup cranberries
¼ cup white chocolate chips
Instructions
01. Combine the sugar, flours, baking soda, ginger, and salt in a medium bowl.
02. Beat the eggs until frothy (around 2 minutes at a medium speed). Beat the Greek yogurt, banana, butter, and milk in a third bowl. Mix until combined. Fold in the eggs, being careful not to over mix and lose the frothiness of the eggs.
03. Fold the wet mixture into the dry mixture. There will be lumps in the batter.
04. Heat half the remaining butter on a pancake griddle over medium heat. Pour a ladle full of batter onto the griddle and sprinkle a few of the cranberries and white chocolate chips on top. Press into the batter if they are sticking out. Leave to cook for a few minutes, until bubbles come through the surface, and remain there (initially the bubbles will pop and then be covered over by the batter again. Flip the pancake, and cook the other side for 2-3 minutes, until golden brown.
05. Serve with maple syrup and enjoy!