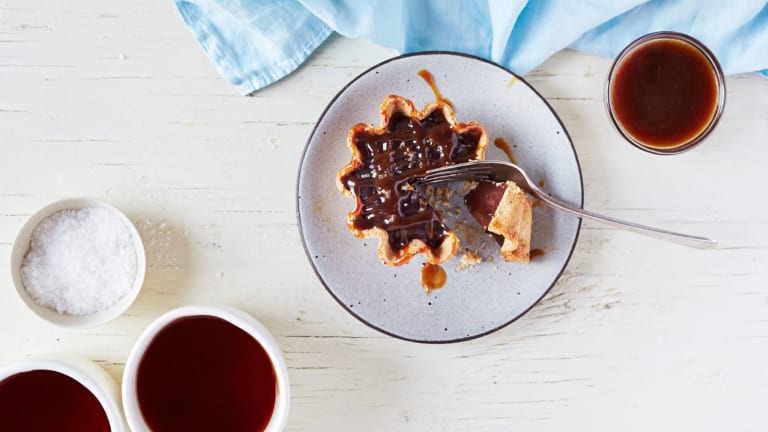 Decadent Gluten-Free Dark Chocolate Salted Caramel Tartlets
This sweet treat is a tried-and-tested crowd pleaser.
The holidays are notorious for long to-do lists and even longer kitchen affairs. If you're in charge of dessert this year, shorten your list by making these decadent dark chocolate tartlets topped with salted caramel (and a hint of coconut). A crowd-pleaser for the eyes and the tastebuds, this sweet hits all the marks. Make them up to five days before serving, confident that you'll be bringing a treat everyone (including gluten-free guests) can enjoy. Then sit back and relax, or, you know, get back to the rest of those things on your list.
CHILLED TRUFFLE TARTLETS WITH SALTED CARAMEL
Makes about 8-10 small tartlets (or one large tart)
Crust
1/3 cup tapioca starch
1/3 cup almond meal
1 1/2 teaspoon xanthum gum
2/3 cup sorghum flour
2 tablespoons light brown sugar
6 1/2 tablespoons cold butter, diced
1 egg
1 teaspoon water
Directions:
01. Pulse starch, almond meal, xanthum gum, flour, and sugar in a food processor. Add butter and pulse until crumbs form. Add the egg and 1 teaspoon of water until dough comes away from the bowl.
02. Divide into 4 flour-dusted balls, cover in Saran Wrap, and chill for 1-2 hours. Remove from fridge, roll, and add to greased tart pan. Make small holes in the bottom with a fork. Chill another 30 minutes.
03. Preheat oven to 400 degrees F. Top pan with parchment paper and dry rice or beans for weight to blind bake. Bake for 5 minutes. Remove parchment paper and weight, then bake another 4 minutes or until edges are golden brown. Let tarts completely cool in the pan on a wire rack.
Salted Caramel
1 cup granulated sugar
6 tablespoons butter, cut into six pieces
1/2 cup coconut cream (or regular coconut milk - chill for 2 hours, then scrape the thick cream off the top)
1 teaspoon flaky sea salt (such as Maldon)
Directions:
01. Heat granulated sugar in a saucepan over medium heat, stirring often with a silicon spatula. Sugar will become clumpy and then melt down into a thick, brown liquid. Stir often and make sure not to burn (it shouldn't be darker than a penny)!
02. Once sugar is melted, add six pieces of butter. Stir fast with spatula. Be careful, as caramel will sputter a little bit. Keep stirring.
03. Once butter is melted, carefully and very slowly drizzle coconut cream into pan, whisking rapidly. The mixture will bubble up again, so be careful and continue stirring. Allow mixture to come to a boil for 1 minute, then immediately remove from heat and stir in sea salt. Pour into a large mason jar and allow to cool completely.
04. If making ahead of time, let cool completely before storing in the fridge. It will keep for about 10 days. When it's time to use, just submerge jar in warm water to bring to desired consistency.
Truffle Filling
2/3 cup coconut cream or almond milk
8 ounces bittersweet chocolate, chopped small
1 teaspoon vanilla extract
Directions:
01. When tart crusts are done cooling, add coconut milk to a saucepan and bring to a boil. Once boiling, pour over chocolate and let stand for 3-5 minutes. Add vanilla extract and whisk until it forms into a ganache.
02. Immediately pour ganache into single tart or individual tartlet shells. Pour in 3/4 of the way full, then add tarts to a small baking sheet and chill in the fridge for 1 hour.
03. Once tarts are chilled, drizzle with salted caramel and top with a small sprinkle of flaky sea salt. Enjoy immediately or store in the fridge for later. The tarts will keep in the fridge, chilled, for up to 5 days.