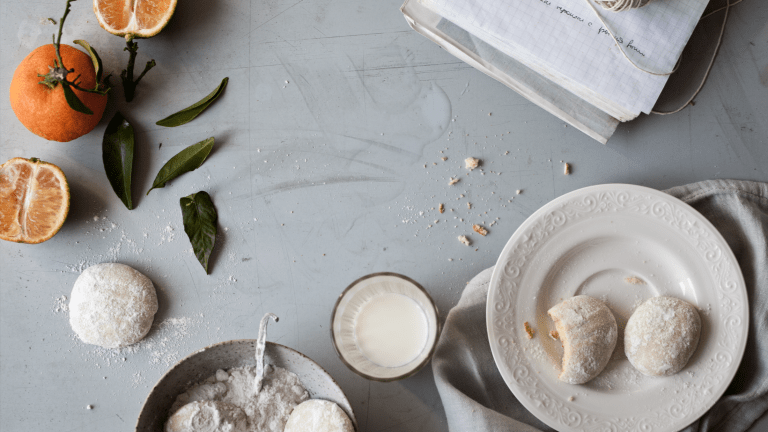 The Perfect White Chocolate Orange Cookie Recipe
Take some time out to bake with (or for) a loved one.
Maja is a very good friend of mine, someone I've known almost all my life. Maybe you have a friend like this too. She is part of a lot of my memories—happy ones and sad ones. We can spend hours together without speaking a word. We think the same way. We love the same things. Except now we live more than 1,000 miles apart.
We speak from time to time, exchange letters, and see each other when I go back home. In the way of long-distance friendships, it's difficult to always be there for each other, and I must admit that, with time, we have grown apart. But the thing that always makes me feel close to her is baking these cookies. Maja gave me the recipe some time ago. Whenever I make them, I am instantly transported to the times we ate them together–laughing, reminiscing, and talking for hours.
This holiday, make these cookies to share with a friend. Put on a pot of tea, cozy up next to the fireplace, and just enjoy.
Maja's Orange and White Chocolate Cookies
makes about 2 dozen cookies
Ingredients
5 tablespoons butter
5 tablespoons sugar
1 orange
2 cups flour
1 teaspoon baking powder
100g white chocolate
1 egg
optional: icing sugar
Directions
01. Preheat the oven to 350 degrees.
02. Put the butter, sugar, juice, and zest of orange and chocolate in a bowl and melt it in a bain-marie. Create a bain-marie by placing a metal or glass bowl over a pot of boiling water, ensuring that the bottom of the bowl does not touch the water.
03. In another bowl, mix flour and baking powder.
04. When the chocolate mix is ready, gently add an egg and fold in the dry ingredients. If mix is still sticky, add a bit more flour.
05. Make small balls with your hands. Place on a baking sheet and gently press them. Bake for 10-12 minutes. (They have to stay white; don't let them change color!)
06. If you like, sprinkle some icing sugar over the cookies and then they're ready to serve!