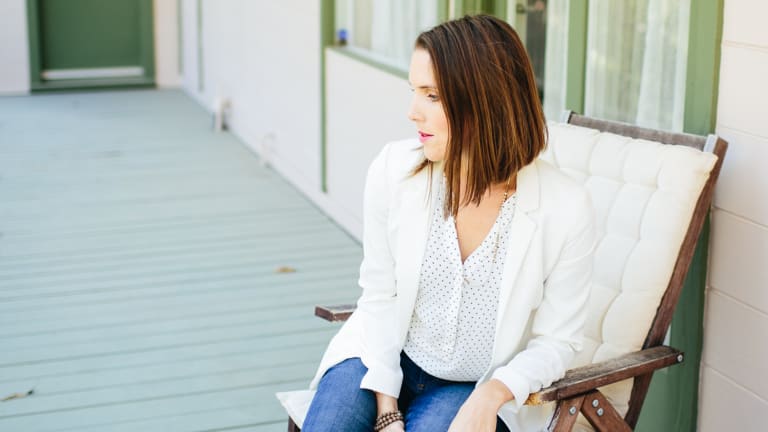 Clever Hacks to Find the Perfect Jeans For Your Body Shape
Every woman's dream—flattering jeans—made easy!
Who doesn't want a great pair of jeans? The most universally worn piece of clothing can make or break your outfit, and it all comes down to fit. So we tapped Megan Evans, the incredibly talented stylist and founder of personal styling agencyThe Well Coiffed Closet to help give us pointers for finding the perfect fit—no matter your shape.
Megan's passion is helping real people discover their own personal style through the right silhouettes for their body type and the best colors for their skin tones. "Fashion is not just an art, it's also a science," Evans say. "It's about finding those right elements that cater to your body, whether it's a specific neckline, width of a strap, or what parts of your body you want to accentuate or camouflage."
With a background in celebrity public relations and a client roster across the country, Evans understands the importance of personal image and how that translates to the level of confidence a person has every day. Having worked with everyone from stay-at-home moms to Fortune 500 CEOs, as well as actors and TV personalities, she says, "Feeling good about what you put on in the morning directly relates to how confident you are throughout your day. It doesn't matter if you are dropping your kids off at school or walking into a major pitch meeting—it's just as important for everyone."
Megan met up with our fabulous volunteer models below to help decode the secret to finding the perfect fit. Because, in the end, it is about helping women become the best version of themselves, even if it starts with a great fitting pair of jeans.
BOX//ERICA
"For Erica, I went with a mid-rise jean to completely cover the hips and thighs as well as lengthen and provide balance to her slightly straight shape. The slim boot cut camouflages her teeny calves to help balance her silhouette. By adding a long blazer and tucking in the top, we were able to give her length beyond her hips and emphasize her waist."
Jeans, Denim Mid-Rise Perfect Boot, Gap, $70
 /
 /
 / Shoes, Erica's own
PEAR//SHIR-EL
"The Levi's Bold Curve is made for a woman with a much smaller waist than hips, which describes Shi-rel to a T. She has fabulous curves and is slightly more on the pear shape side, so a high-waisted jean that doesn't cut her off in the middle of the hips works best. Plus, skinny jeans can highlight her beautiful calves and lengthen her figure. A deep v-neck tee was the perfect choice to display her collarbone and show off her gorgeous face."
Jeans, Levi's Bold Curve Mid-Rise Skinny Denim, $88
 /
 /
 /
 /
HOURGLASS//SHINAY
"Shinay is 5'11" with a lovely hourglass body, so the Levi's Demi Curve was my answer. We went with a straight leg to give her that smooth silhouette all the way down. This emerald green Zara top made her eyes pop, and tucking it in with a skinny belt gave her waist definition."
Jeans, Levi's Demi Curve Straight Leg, $88
  / 
 / 
 /
 /
 / Boots, Shinay's own / Hoop Earrings, Shinay's own
PETITE//MELISSA
"With such a petite, straight frame, I wanted to add variation for Melissa, which is exactly what a high-waisted skinny jean does. A form-fitting, high waistline gives the illusion of curves, as it draws the eye to the waist and lengthens the leg.  Tuck in a boxy crop top to add just the right amount of visual interest and create more volume."
Jeans, Levi's High Rise Skinny Jeans, $88 
/ 
 (similar)/
/
/
/ Jacket, Melissa's own
Be sure to check out The Well Coiffed Closet and follow Megan on Instagram, Facebook, and Twitter @coiffedcloset!