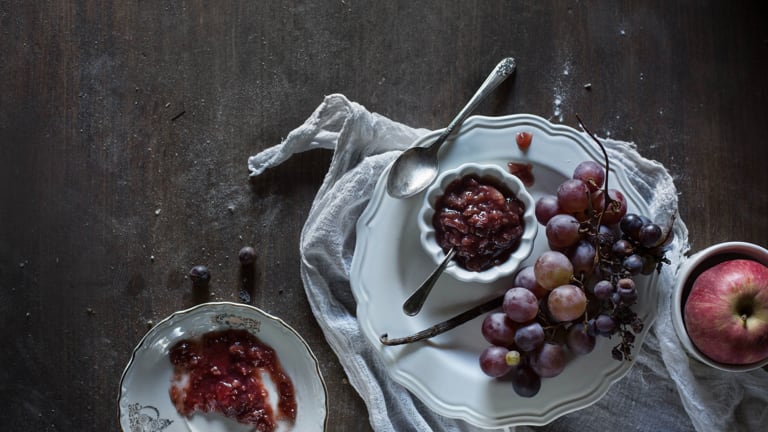 This Easy Homemade Grape Jam Is the Best Thanksgiving Hostess Gift
Your friends will love this thoughtful gourmet gift.
Remember those gigantic tins of flavored popcorn? (Just admit it, the fake cheddar stuff is amazing.) Or the Harry and David gift baskets—with their incredible truffles and almonds and pears—that always seem to make their way into offices this time of year? We're never at a loss for overpriced edible gifts during the holidays.
But rather than spending a fortune buying presents for everyone big and small, why not go totally gourmet and make a little edible gift of your own? Homemade grape jam tastes nothing like the cloying grape jelly you buy at the grocery store—its flavor is deep and concentrated, equally tart and sweet. A jar would make an impressive and unique holiday gift for your hostess, colleagues, girlfriends, or anyone with a sweet tooth. You could even make a complete gift basket with items that pair well: baked goods or seasoned cheeses like pecorino, or with blue cheeses like Gorgonzola or Bleu d'Auvergne for a refined touch. And keep some for yourself to smother on toast with butter, or swap for almond or hazelnut butter instead. Bliss with every bite.
All-Natural Grape Jam
makes 2 cups
Note: Thickening agents are naturally present in grapes and apples. So this recipe will be rich and sweet without the need to add sugar or gelatin. Feel free to go sugar-free, but adding sweetener elongates its shelf life. It will stay fresh for about a month in the fridge, longer if you add sugar. Boil the jars for prolonged shelf storage and use within a year. This recipe makes a small batch, but you can easily double or triple it.
Ingredients
1 large bunch red, seedless grapes, preferably Concord or Muscadine
1 medium apple
A scant 1/2 cup of brown or Muscovado sugar
Juice from one lemon
Special touches: a vanilla bean pod and 50ml of rum, if you like
Directions
01. Start by washing the fruit well. Do not peel the apple, but cut it in rough chunks. If using seedless grapes, just separate the single grapes from the stalk. If using a variety of grapes with seeds, remove all the seeds from your grapes.
02. Combine the fruit in a pan, adding the sugar, lemon juice, and rum (if using). Split the vanilla bean with a knife, and scrape the seeds into the pan. Drop in the rest of the vanilla bean. Stir to distribute the ingredients. Allow mixture to sit for a day in room temperature, or at least 12 hours (I recommend allowing it to sit for a full 24 hours). After this time, the fruit will have produced a lot of water.
03. When ready, turn the heat on low. Let simmer for 5 minutes before giving it another stir and turning the heat to the lowest possible setting. The jam will need to simmer for at least 40 minutes before you can see some thickening happen. Before this time, you can leave it mostly unattended—just stir it once or twice to make sure it doesn't stick. The more sugar you add, the faster it will thicken, so keep this in mind if you decide to add more sweetener. It will thicken more as it cools.
04. If making a small batch and planning to use within 1-2 months, just pour into jars with lids and let cool before storing in the fridge.
05. If you want to can it for extended shelf life, proceed as follows: Wash the jars well and make sure the caps match and close perfectly. Boil the jars and lids in a large pot for at least 20 minutes, making sure the water covers everything. Then let cool in the pot. Dry them well—I suggest drying them in the oven at 250 degrees for about 10 minutes. Pour the jam into the jars when it's still boiling hot, close them, and turn them upside down. Leave them like so until completely cool. The heat will create a vacuum effect that will suck the air out of the jars and create a seal. They will keep for over a year on your shelves.