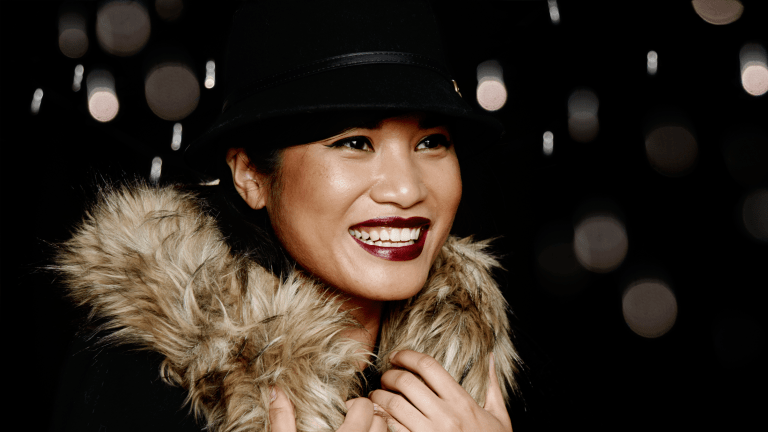 How to Rock Bold, Oxblood Lips With Any Skin Tone
No matter your skin tone, you can rock this statement look.
Wondering if you can pull off the oh-so-fabulous oxblood lip for fall? Well, great news: No matter your skin tone, you can rock this statement look. The key to successfully pulling it off is balancing your lips with the rest of your face and finding the right shade for you.
For extra staying power, and to keep your oxblood color from bleeding, you'll need a lip liner the same shade as your lipstick of choice, as well as a creamy concealer and some setting powder.
01. First, lightly pat a small amount of concealer on your lips to neutralize your natural lip color and to create a good foundation for the oxblood hue. Then, line your lips using the liner right along the edge of your lip line and fill in your lips with the pencil. The liner will create an extra base for the lipstick to stick to and act as its backup.
02. Apply the lipstick. I love Chanel Coco Rouge in Ballet Russe, MAC Cosmetics Lipstick in Hang-up, Revlon Super Lustrous Lipstick in Black Cherry, and NYX Lipstick in Alabama. You can use your finger to dab the product on for a sheer application (in this case, no lip liner), a lip brush for a more precise and opaque application, or apply straight from the tube for full-on drama and bold color.
03. Use your concealer at an angle, or a flat brush, to go around the edges of your lips and clean up any feathering lipstick or blurry lines.
04. Again, use an angle brush or a flat-top brush and apply the translucent powder to set the concealer around the lips and to create a barrier so that your lipstick won't travel.
05. To ensure that your lipstick doesn't overpower your face, balance your face with definition around the eye and a bit of cheek color. A great smoky eye liner with lots of mascara or a naturally contoured eye works beautifully for this look.
06. You're all set to rock that lip! Keep the lipstick and a small mirror with you for touch-ups, and get ready for the compliments to roll in all night long.
THE BEST HUES FOR YOUR SKIN TONE //
Whether you're light, medium, or dark, it's good to know what your undertone is. If you have a cooler undertone, lip colors that are a blue-based red work best for you, like Chanel's Coco Rogue Ballet Russe or MAC's lipstick in Hang-Up, which has a blue, plumy base.
For warmer undertones, you want to stick with a warmer, brick or brown-red shade like NYX Simply Vamp Lip Cream in Aphrodisiac or Revlon Super Lustrous Creme in Black Cherry.
Light/Medium Skin:Chanel Coco Rogue Ballet Russe (cool tones) or NYX Simply Vamp Lip Cream in Aphrodisiac (warm tones)
Medium/Dark Skin:MAC Cosmetics Lipstick in Hang Up (cool tones) or Revlon Super Lustrous Creme in Black Cherry (warm tones)
Special thanks to our beautiful model Jamaila Cuentas from our reader model callout!