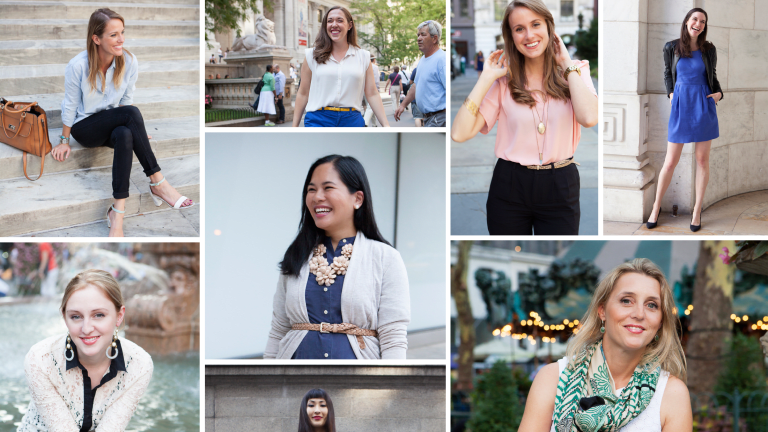 What We Wear to Work: Easy Style Staples From the Verily Editors
We all know how it feels to wake up, still out of it, and cringe at the thought of actually putting an outfit together. Aimlessly tugging at haphazard hangers and muttering that there's nothing to wear—sound familiar?
Then a glorious little lightbulb flickers through the haze, and that safe, go-to outfit appears to save the day. It's the one ensemble you wear time and again, uniform-like, because you know it always works for you and makes you feel fab.
And that's what we're bringing you today: a roundup of our very own go-to outfits that we wear to work for those days we can't think of what to put on. Every Verily editor shared her favorite look so you too can take heart when facing the closet.
Kara, Co-Founder & Editor-in-Chief
For the office, I usually play somewhere in the professional-but-fashionable zone, and when I don't know what to put on in the morning, this fits the bill. Everything is super comfy, and the dressier top makes the more casual pants feel put together. But really, this is all about getting to wear my "don't mess with me" shoes—spikes and studs on a ladylike heel? Yes, please.
Top, ZOA, Piperlime / Pants, Gap, similar / Shoes, Aldo, similar / Bracelet, Sseko
Janet, C0-Founder & Style Editor
When it comes to my safe outfits, I'm apt to go loose and flow-y on top and form-fitting on the bottom. A light chambray button-down, black jeans, and a simple heel is the perfect "not too dressy, not to casual" look when I'm not sure what the day will bring. I feel put together but not overly fussed; it's tomboy meets feminine. I also tuck in the shirt in the front to dress it up a bit and pile on bracelets—just because!
Top, Gap / Pants, H&M / Shoes, DSW / Bag, Target
Maggie, Managing Editor
No matter the season, my go-to outfit is a dress paired with a cardigan or this faux-leather jacket (a must-have in every woman's closet!). I've definitely started wearing more black since moving to NYC, but I love a bold color, like this cobalt blue, to show my personality. I keep my jewelry minimal—classic stud earrings are my best friend.
Dress, J.Crew (similar) / Leather Jacket, Urban Outfitters (similar) / Pumps, H&M
Monica, Relationships Editor
Throwing on a pair of high-waisted trousers is perfect for those days I wake up feeling at a loss. Nothing says "I know what I'm doing" like stuffing your shirt into your pants. Of course you did it on purpose and you look super chic while you're at it!
Top, Piperlime (similar at LOFT) / Pants, Madewell (on sale!) / Shoes, Aldo, similar
Mary Rose, Culture Editor
A chic black or white maternity shirt is my go-to these days because it pairs well with everything and makes my postpartum belly less noticeable. If I don't have time to style my hair, I pull it back into a bun and don some chunky earrings.
Top, Buffalo Exchange / Jeans, Motherhood Maternity / Earrings, Earrings Plaza, NYC
Krizia, Lifestyle Editor
I have two babies and work from home, so my daily uniform consists of a simple, classic outfit that can take me from our tiny NYC apartment to a business meeting in no time. Soft leggings and a silk tunic in a neutral color are comfortable and easy to pull on. A belted cardigan, coordinating statement necklace, and chic flats add some polish to an otherwise very casual look.
Top, Land's End, similar / Cardigan, Mango / Leggings, Uniqlo / Flats, Ann Taylor / Belt, Ann Taylor / Necklace, Etsy
Haruka, Graphic Designer & Photographer
The jumpsuit is a lazy girl's best friend. It saves you from having to choose both a top and a bottom to wear (earth-shattering, I know), and you can easily dress it up with a blazer and a good pair of heels. I like to polish up the look with a bold lipstick to pull it all together.
Jumpsuit, Zara /Blazer, LeChateau Outlet Store / Shoes, Naturalizer
Katherine, Art Director
When in doubt, I think a great scarf really ties a non-planned outfit together. (Plus you fit in better in Europe!) Also, to give myself a pick-me-up, throwing on a bold and bright color is easy and makes quite the statement.
Shirt, Boden, similar / Pants, Anthropologie, similar in white / Scarf, Anthropologie
Gorgeous photos by Sara Kerens Photography: @sarakerens