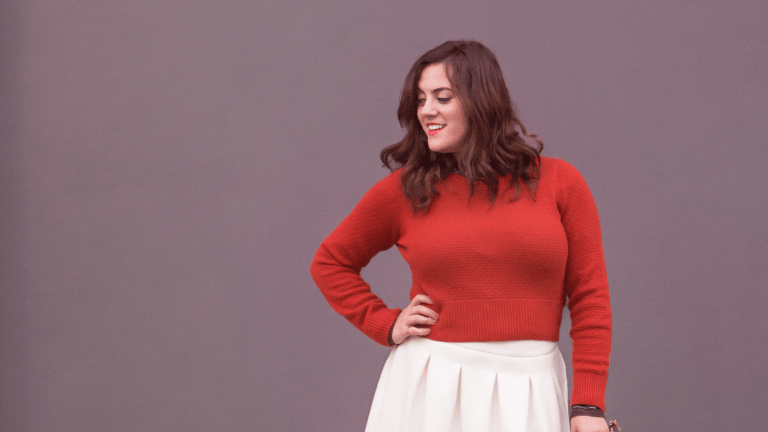 3 Summer Wardrobe Staples You Can Rock Into Fall and Beyond
The change of seasons doesn't mean you have to bid all your summer favorites goodbye.
It's the first official day of fall, and everywhere you look stores are filled with sweaters, scarves, jackets—the works! It's so tempting to run out and buy a whole new wardrobe, but there's an easier way.
While I love me a 'fall boot and cable-knit moment,' I also want to be practical. I have a ton of summer items in my closet that I'd like to continue to rock well into the fall season and beyond. Here are three style staples that work just as well for fall as they did all summer long.
01. LITTLE BLACK DRESS//
The LBD is known in the fashion world as the easiest go-to. Don't know what to wear to an event? That little black dress is foolproof.
SUMMER
All summer I've been wearing my little black dress to weddings and date nights in the city. Here, I've paired it with some fun, colorful statement jewelry and Kate Spade heels that are the epitome of quirky romance. Helloooo date night.
Dress, Ann Taylor, $149 / Earrings, Kate Spade, $38 / Necklace, Kate Spade, $148 / Heels, Kate Spade, $298-$350
FALL
Just because there is a chill in the air doesn't mean you have to put your dresses away. How about popping a polka dot button-down underneath to completely change the look? This fall, I'm really digging capes, and I like to think of this bright red one as a modern, preppy Little Red Riding Hood staple. Maybe I've been reading too many fairy tales with my daughter—all I know is that I'm going to be working this cape all season long.
Shirt, Express, $60 / Cape, Kate Spade, $678 / Shoes, BP., $80 / Earrings, Banana Republic, $35
02. STRIPED TEE//
My love for stripes knows no bounds. It doesn't matter the season: I will find a way to wear stripes in the arctic and in Hawaii, on a boat or on a flight, and especially throughout summer and fall.
SUMMER
Do you ever want to leave the house in sweats but don't want to sacrifice style? Try pairing an embellished tee with interesting basics for a casual yet fashionable look. Here I'm wearing a pair of cute joggers, my favorite gold Sperry Topsiders, and a denim vest to keep the comfy-cute factor high.
T-shirt, Ann Taylor, $50 / Denim Vest, Old Navy, $41 / Necklace, J.Crew, $50 / Earrings, J.Crew, $38 / Shoes, Sperry Topsiders, $90 / Watch, Michael Kors, $206
FALL
This T-shirt is versatile enough to wear any season and can go casual or fancy. Since black denim is a huge must-have this year, I'm playing up the dark stripe in the tee with a pair of black jeans for a chic, urban look.
Sweater, Banana Republic, $90 / Necklace, J.Crew, $38 /  Earrings, Forever 21, $6 / Hat, Anthropologie, $58 / Jeans, Gap, $56 / Boots, Sam Edelman, $130
03. WHITE SKIRT// 
I know, I know: no white after Labor Day. Who made up that rule anyway? I adore crisp white in the fall and winter just as much as a I do in the summer and spring. So can we all just agree to throw that old rule to the curb and start showing off our favorite white pieces no matter the season?
SUMMER
This summer, I found myself constantly reaching for the white skirt. Lunch with a friend? White skirt. Bridal shower? White skirt. Vacation time? White skirt.
This look was inspired by a baby shower. Everyone was instructed to wear pink and blue. I wanted to please the grandmas at the event, as well as the younger cousins. So I went with a classic silhouette but young, bright colors. And I'm wearing the same floral heels from earlier. Reuse your statement pieces! You don't have to let them sit on the shelf because you wore them last month.
Skirt, Banana Republic, $80 / Top, J.Crew, $88 /  Heels, Kate Spade, $298-$350 /  Necklace, Banana Republic, $80
FALL
There's no better way to stretch the life of a skirt than by adding a blouse and sweater. Mix in an autumnal color palette, and the skirt takes on a whole new life. I've been a little weary of the cropped shirt trend, but this was the perfect way to try it out. By wearing it with a natural-waisted skirt, the sweater hits just at the right spot, while normally sweaters are too bulky and long to be worn with this kind of skirt. I'm a cropped sweater convert!
Sweater, Banana Republic, $70 / Blouse, Loft, $50 / Shoes, TOMS, $89 / Rings, Madewell, $28 / Earrings, Anthropologie, $20 / Pouch, J.Crew, $78
Follow more of Melanie's inspirational style over at Head Over Heels with Melanie, @HOHwithMelanie
Hair and Make-up by Jane Kim of The Glamourist.