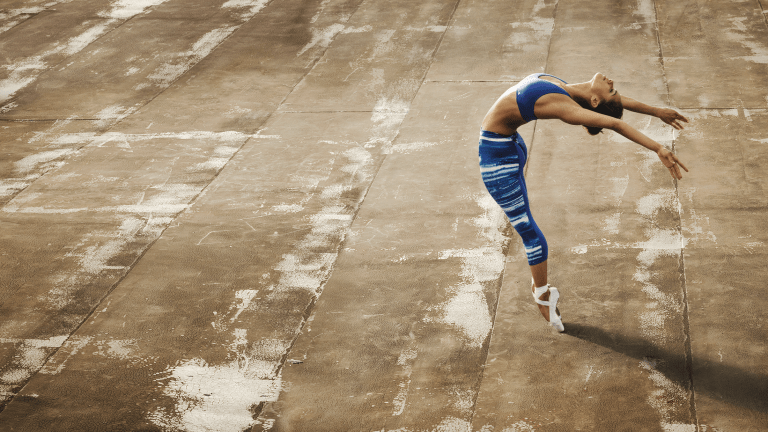 Misty Copeland's Ballet Success and the Value of Being Yourself
It would be hard not to admire Misty Copeland, but the ballerina's new ad for Under Armour has made her more than an object of admiration. The ad, titled "I Will What I Want," has catapulted the thirty-one-year-old into the international spotlight, going viral within days of its launch.
Copeland's ad features a voiceover of the negative comments she heard during her pursuit of professional ballet training. "You have the wrong body for ballet," the voice says. "You lack the right feet, Achilles tendons, turnout, torso length, and bust. And at thirteen, you are too old to be considered." (Oh yes, and Misty happens to be black.) We hear all this while the camera shows, in extreme close-up, just how phenomenal that body really is. She looks like a woman, not a wraith. She slices the air like a hawk; she spins like fireworks. We hear an old paradigm while seeing a new one—the one that, in the end, has proved victorious.
There's nothing quite as inspiring as an "Oh yeah? Just watch me!" story, and Copeland has one of the best. She rose to her status as a soloist with American Ballet Theatre (ABT) the hard way and is only the third black woman to rise to that position in the company's seventy-seven-year history. She didn't have a mom who could drive her to "Bitty Ballet" classes starting in pre-K because her mom was working fourteen-hour days, with no car, struggling to feed six kids in a rough Los Angeles neighborhood after leaving an abusive husband. Misty had just about every strike possible against her—aside from her raw talent and absolute determination to pursue her dream.
But she's not just an extraordinary dancer. She's an example. Empowered in part through social media, more young people than ever are determined to pursue their passions, whether or not society has granted them permission. A girl who's into cars and superheroes and detective stories? Fantastic. A boy who taught himself how to cut hair and opened his own business? Cool. A set of friends dedicated to fighting discrimination in their school? Why not?
I see young people of all races and classes quietly changing culture simply by believing it's possible, permissible, and necessary for them to be who they are. Likes and comments are appreciated, of course, but the main event is pursuing what makes one's heart beat faster, with no shame and no intimidation from even the silent raised eyebrows of the pop culture elite.
This has been true in a wonderful way—a way Copeland epitomizes—for women in sports. Under Armour is well aware that barre classes, yoga, Crossfit, and the like are attracting massive numbers of women who want to be more graceful and beautiful, yes, but mainly, they want to be strong. It's not that we could be lovely and powerful if given enough approval, the ad suggests. Lovely and powerful is what we already are—and we are allowed to cultivate those gifts. There's freedom in that perspective shift, freedom to try and fail and laugh and get up and try again. It's a freedom every human being deserves.
Through her personal journey, Copeland is also quietly but insistently inviting ballet to question itself (as have many black dancers before her, sadly, to little effect). She's the face of ABT's Project Plié, whose mission is to increase racial and ethnic representation in ballet. But in ballet, change is slow. It has always been an art form that carries forward the most distilled elements of culture. With that distillation comes great beauty but also homogeneity, exclusiveness, and fear of change.
It's no excuse. In a time of shocking violence against black young people, Copeland's ascent is more powerful and more important than ever. Now she has a movie deal based on her autobiography Life in Motionand a new following among people who wouldn't know a pirouette from a pas de chat. Her message: What is of value in each of us is of value, whether the "powers that be" are brave enough to acknowledge it or not.
Copeland's thrilling ad has introduced a huge audience to the mastery and moxie of this ballerina at the peak of her powers. It's not just her physical awesomeness that keeps us looking. It's her extreme determination to be, quite simply, who she is, in a culture that tends to value conformity over the authentic following of one's own heart. She insists that the world has room for those who don't fit in, that there's no such thing as "wrong." And that if the world doesn't have room, it can darn well make some.