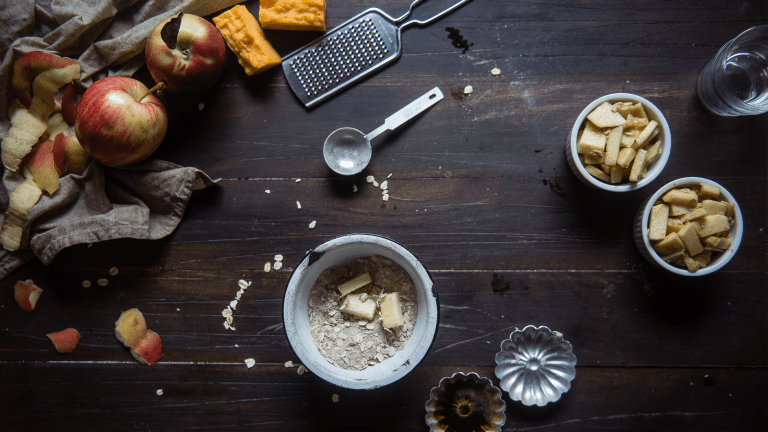 Brown Butter Cheddar Apple Crumble For Two
Try this perfect Fall recipe!
Crumble, crisp, cobbler, slump, brown betty, pandowdy. It's a dessert that goes by endless names and faces, but its heart is simplicity: fresh fruit tucked under a blanket of something warmly spiced and buttery, and baked until fragrant and soft underneath and richly crisp on top. Unlike its flighty pie cousin, a good crumble comes together in a matter of minutes, and its recipe is so forgiving that, after a read-through or two, you won't even need one.
Although a crumble will work with almost any fruit, my favorite iteration is this cozy fall version. Start with the standard ingredients of warm apples, plenty of cinnamon and a touch of nutmeg, butter, flour, sugar, and a handful of oats for heartiness. But what makes it truly special to me is a dose of rich, nutty brown butter and a generous shredding of sharp cheddar cheese. Together, they lend the dessert a savory undertone and an incomparable depth of flavor that make this truly addictive. Which is why I only make enough for two!
Brown Butter Cheddar Apple Crumble for Two
Serves two, in two 4-ounce ramekins
Ingredients
2 Tbsp unsalted butter, 1 for the brown butter + 1 cold and diced
2 Tbsp brown sugar
2 Tbsp white sugar
2 Tbsp all-purpose flour
2 Tbsp old-fashioned rolled oats
1/2 tsp ground cinnamon (or more, to taste)
1/8 tsp ground nutmeg
small pinch salt (optional)
1 medium apple, peeled and diced (about 1 cup)
2-4 Tbsp grated sharp cheddar (optional)
Directions
01. Preheat the oven to 350 degrees F. In a small saucepan, heat butter until melted, then continue to cook, stirring constantly, until butter crackles, begins to smell nutty and fragrant, and turns a medium brown. (For a stronger brown butter flavor, let it go darker. I generally cook until it's a very dark brown.) Remove from heat and set aside to cool.
02. In a medium bowl, whisk together the sugars, flour, oats, cinnamon, nutmeg, and salt. In a separate bowl, combine about a tablespoon of this flour mixture with the diced apple and toss to coat. Pour about half the brown butter over the apple mixture and toss again until coated evenly. Divide the apple evenly between two 4-or 6-ounce porcelain ramekins.
03. To the original bowl with the flour mixture, add the cold (not brown) butter and work the mixture together with your fingers until it is crumbly and forms clumps the size of peas. Pour in the remaining brown butter and mix again until thoroughly distributed. It should be the consistency of wet sand and should clump together if you squeeze. If using, mix in the cheddar cheese. Gently mound the crumble topping over the two ramekins. Don't worry if they're especially tall; the apples will cook down when they bake.
04. Bake for 18 to 25 minutes, until the top is crisp and dark brown and the juices from the apples are bubbling at the edges. Serve warm or room temperature, with Greek yogurt or vanilla ice cream. And if you really love the cheddar, feel free to melt extra into the crumble as you eat it!
Note: Cheddar finds its way into baked apple desserts more often in some regions than others. The effect is subtle, but it adds a slight chew to the crumble texture and a roundness to the flavor. If it puts you off, feel free to omit it. But I promise it's truly delicious!