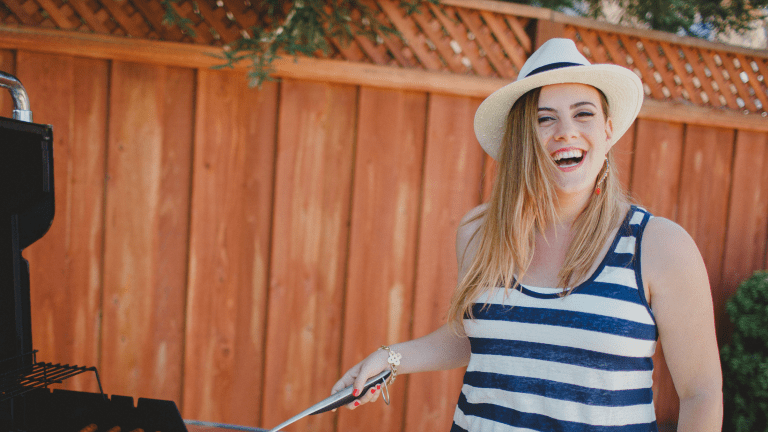 Festive Summer Outfit Inspiration for Your Labor Day BBQ
We're so happy to work with Melanie from Head Over Heels with Melanie! She is a professional stylist who loves to help women feel confident through gorgeous, attainable fashion that reflects their personality. Melanie is a native New Yorker who currently resides in the Bay Area and is quite known for hosting fabulous barbecues. 
Whatever your plans for this upcoming holiday, Melanie has whipped up a few cute ensembles as inspiration for your long weekend wardrobe.
"I love me a good summer barbecue. What's not to love about grilling, cold beer, and relaxing with friends? The only thing I love more than a barbecue is the outfit I get to wear to the barbecue! I absolutely adore finding fun ways to feel fashionable, comfortable, and festive. Here are three of my favorite summer looks that work for your Labor Day party and beyond."
PATTERN PLAY //
Let's just call a spade a spade—you can never go wrong with nautical stripes. That being said, sometimes I still want the outfit to feel fresh and new. Wear a unique pair of printed shorts to add an unexpected element to your outfit. I'm a big fan of hats, especially classic ones like this Panama hat. It adds a breezy summer feel and completes the casual summer look.
Striped Tank - J Crew / Panama Hat, Madewell / All Jewelry,  Aquinnah Jewelry / Shorts - J Crew / Heels, Cole Haan
ROMPIN' AROUND //
My absolute favorite summer staple is a romper. It's especially great for a barbecue because you can sit, do high kicks, play a game of Twister—whatever the day calls for—and not have to worry about flashing anyone. Win, win. I made my romper more glam with gold jewelry and a pair of adorable wedges. When it doubt, go for lots of metallic jewelry. It will never lead you astray.
My girl Zoe (aka Zo Zo) decided to make a fashionable appearance as well. She is a big fan of anything she can lift over her head, so this festive star dress worked like a charm. Who says babies can't wear sun hats? I say start 'em young!
Romper, Madewell / All Jewelry, Aquinnah Jewelry / Heels, Onex / Crossbody Bag, Madewell / Zoe's Dress, Shoes and Hat - Baby Gap
MAXI DRESS FOR THE WIN //
What I wouldn't do for the opportunity to wear a gorgeous maxi dress every day of my life. This white stunner is relaxed, stylish, and romantic—everything you want in a maxi and more. I played up the romance with a fishtail braid and gold jewelry. Since I wanted to make sure I didn't get chilly later (I plan to stay for s'mores, after all) I added my trusty jean jacket that I should really never leave the house without.
Hat,  Anthropologie  / Dress,  Madewell / Jewelry, Aquinnah Jewelry / Scarf (as backdrop), Free People / Sandals, Target (similar) / Jean Jacket, Old Navy
Follow Melanie for more great style tips at @HOHwithmelanie, on  Facebook, and at Head Over Heels with Melanie!
Photography – Krista Marie Lynch / Hair and Makeup - Melissa Hoffmann