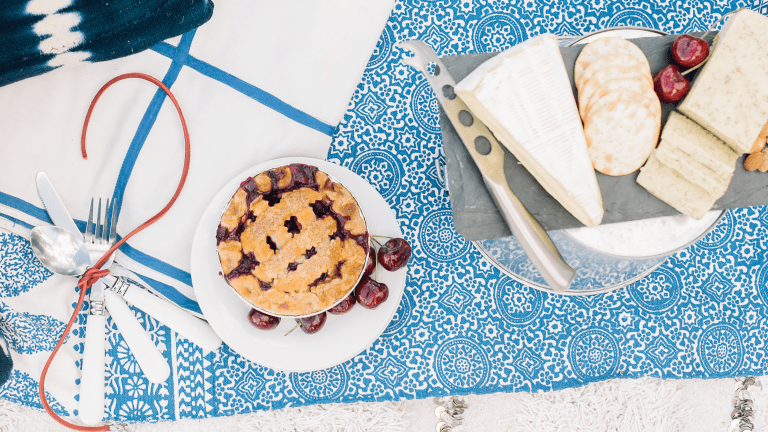 Host an Easy Labor Day Picnic in the City
Living in New York City (or any city, for that matter) can present a unique set of challenges. Battling for Saturday night cabs. Fourth floor walk-ups. Laundry. In the summertime, friends with outdoor space, whether a backyard or a rooftop with a skyline view, are few and far between. If you're thinking about a Labor Day staycation, we've got you covered. As an alternative to the traditional backyard barbecue, we hosted a sweet and chic day in the park instead.
Try hosting a potluck picnic with all your friends. Scout out the location a week before your event. If you decide to go to a park, make sure it will be open on the day of your picnic, and if you plan to bring alcohol, make sure that's allowed! Find an area that will have plenty of space for your blanket or chairs. Once that's set, invite your friends. (We like these free online invitations from Paperless Post.)
Have each guest bring a dish and drink to share as well as their own creative stylistic elements. Pick a theme or color palette (like the classic red, white, and cobalt blue we chose) and have everyone sign up to bring the following items:
Pillows
Blankets
Linen napkins
Utensils
Plates
Glasses
You might choose to bring the paisley and polka-dotted napkins you inherited from your stylish grandma. Your boho best friend might choose to bring hand-dyed mud cloth throw pillows. Your world traveling roommate brings along a beautiful, textured Moroccan wedding blanket with silver details. Each piece weaves together seamlessly and gives all of your friends a chance to contribute to the party—without leaving you to do all the work! Total win-win.

When it came to the food, we kept our menu simple. Gourmet cheese, artisan crackers, fresh fruit and nuts—and, of course, a homemade cherry pie. Make sure you bring a cooler or ice bucket to keep everything cool. Pick up an inexpensive carafe for water and add lemons or cucumbers for a fancy-yet-super simple twist.
Top it all off with a good bottle of rose (or two) to toast to good friends, good food, and priceless skyline views.
--
Vendor Credits:
Concept design & styling: Tinsel & Twine | @tinseltwine
Photography: Brklyn View Photography | @brklynview
Mud cloth pillows: Patina Vintage Rentals | @rentpatina
Metal basins, wire baskets, and printed linens: Octavia & Brown | @octaviabrown
Moroccan Wedding Blanket: Hivernage Artisanal Imports | @hivernage