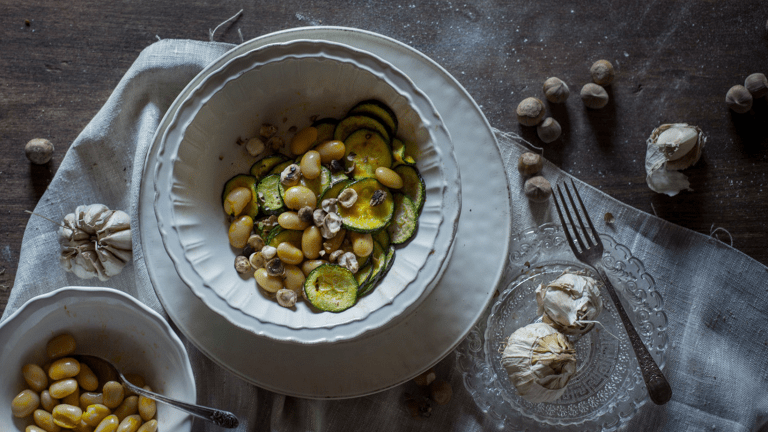 Saffron Zucchini and Butter Bean Salad Recipe
If you've ever tried to grow your own zucchini, or know someone who did, you know that it can be a very plentiful harvest. In fact, it tends to be a little too plentiful. Everyone who grows this vegetable knows that when the time is right, they will find themselves with tons of zucchini and desperate for ideas on what to do with them.
Luckily, zucchini are incredibly versatile. The combination of zucchini and saffron is a classic, but they also pair well with mint, curry, and chili (although I would not use all three at one time).
While this zucchini, shallot, and saffron sauté makes for an awesome, super-classic Italian pasta sauce, I decided to change things up a bit and pair it with a gluten-free option. In this case, the soft consistency of butter beans (also known as lima beans) goes wonderfully with the soft-cooked zucchini, while the hazelnuts, which are also in full season now, offer some crunch factor. You can turn this salad into a full meal by adding some cooked quinoa or amaranth, or switch up some spices if you do not want to use saffron. Curry makes for a super tasty alternative, and works wonderfully with zucchini.
You can also turn this into pesto! Once everything is cooked, purée with another tablespoon of extra virgin olive oil and dress the beans.
Saffron Zucchini & Butter Bean salad
(serves 2)
1 handful roasted hazelnuts
1 garlic clove
1 small shallot
2 medium zucchini
A pinch of powdered saffron
1 Tbsp olive oil
1 cup butter beans, cooked
Salt & pepper
Sweet paprika, to finish
01. Toast the hazelnuts if they aren't already toasted. Bake them at 390 degrees F for 7 to 8 minutes, keeping a very close eye on them, or toss them in a pan on high heat, shaking constantly until the nuts become fragrant.
02. Finely mince the garlic, and peel and mince the shallot. Cut the zucchini into 1/4-inch rounds, or into equally sized chunks. Toss them with the olive oil, a good pinch of salt, a tiny bit of pepper, and the garlic. Heat a pan on high heat and add the veggie mixture to the pan. Toss well and let them brown for a couple minutes, then add a small splash of water (about 1/4 cup) to prevent sticking. Cook half-covered until the zucchini are soft, about 8 to 10 minutes.
03. Dissolve the saffron powder in a teaspoon of warm water, and add it to the pan before the last minute of cooking. Toss well to distribute the saffron evenly.
04. If using canned beans, rinse them very well, and drain. Toss with the sautéed zucchini and roasted hazelnuts. Finish with a tiny drizzle of extra-virgin olive oil, adjust the salt, and add a sprinkling of paprika if you like.