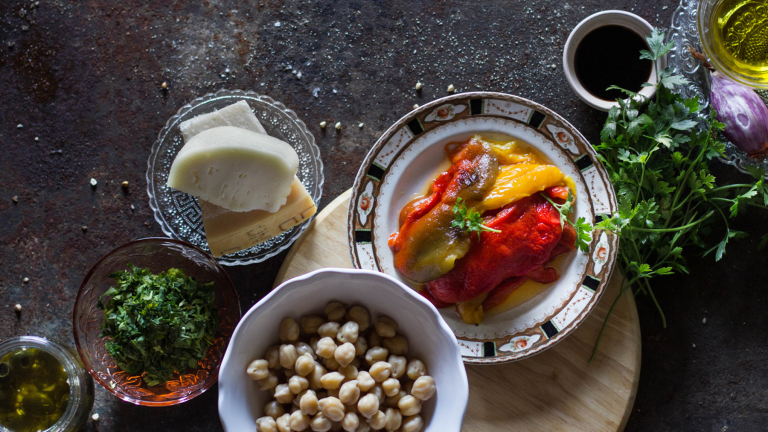 A Delicious Chickpea and Roasted Pepper Salad Recipe For Two
Get inventive with this delicious and nutritious ingredient.
Among all the classic Italian cooking around me, the only acceptable way to cook chickpeas seems to be with rosemary and often into a stew with pasta and potatoes. But is this really the best we can do, when all our Mediterranean neighbors add chickpeas to pretty much anything and make them taste amazing (hello, hummus)?
Chickpeas in Italy have always been favored as fall food, so I have never seen them used in salads. But they make a wonderful addition to roasted veggie salads: anything that involves tomatoes, peppers, zucchini, or any summer vegetable. This is a very simple salad which can serve as a base for lots of customization. You can add sliced grilled eggplant or throw in some mint if you like it. I love the buttery texture of chickpeas that complements the peppers nicely, but for a change in texture, toss the chickpeas with ground cumin, coriander, cayenne, and salt and toast them at 400 F until crispy. For more suggestions, you can find notes at the end of the recipe.
CHICKPEA AND ROASTED PEPPER SALAD
Serves 2
For the Salad
1 cup cooked chickpeas
2 medium peppers, red and/or yellow
pickled olives (see Vegan Cannellini Bean Salad)
small bunch of parsley
good aged cheese, like Pecorino or Parmigiano
sprinkling of sumac, to finish
For the Dressing
1 Tbsp olive oil
1 Tbsp thick balsamic vinegar, black or white
1 small shallot
salt & pepper
MAKE THE DRESSING
Chop the shallot very finely; then combine with the vinegar, extra virgin olive oil, and a good pinch of salt. Sprinkle some white pepper, mix, and refrigerate.
MAKE THE SALAD
01. Preheat the oven to 390 F.
02. Cook the peppers on the oven rack until the skin is blistered and comes off easily and they are very tender, about 30 to 40 minutes. You can do the same on a grill.
03. Let them cool, then peel, discard the seeds, and cut the peppers into bite-sized strips. Chop the parsley very finely and get the olives, cheese, and dressing ready.
04. If using canned chickpeas, rinse them very well and drain. Toss the chickpeas with some pickled olives, the peppers, parsley, and dressing. Shave (or crumble) some cheese on top, and serve. This salad is even better if you let it cool in the fridge before serving.
05. If you want to keep this salad vegan, toasted almonds or pine nuts make for a great alternative to the cheese. Add roasted cherry tomatoes and quinoa for a satisfying gluten-free salad.