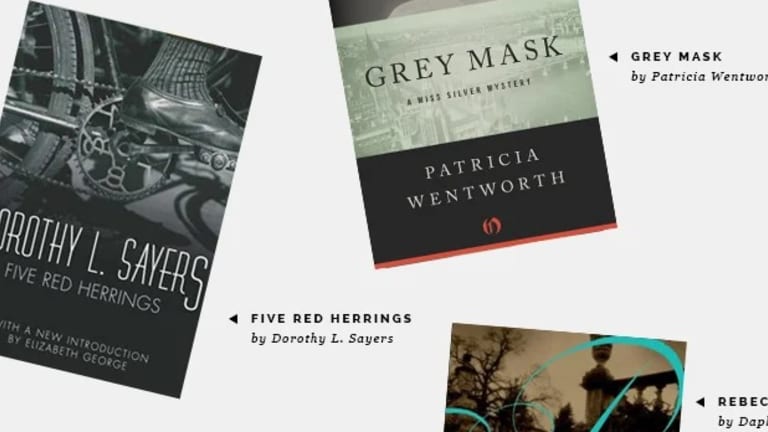 Murder Mystery Novels We Can't Put Down This Summer
There's no better summer read than a page-turner mystery or thriller. And while novels by Gillian Flynn or Janet Evanovich may be popular choices, I've always been a fan of the old-fashioned suspense authors. It may be tempting to pick up that worn Agatha Christie, but there are a host of lesser-known female mystery writers equally worth throwing in your beach bag. These novels are the epitome of the classic mystery adventures that manage to pack heart-pounding suspense, action, and sometimes romance, all packed into one elegant punch. Happy crime-solving!
Crocodile on the Sandbank 
by Elizabeth Peters
If you're a fan of crime fiction and ancient Egypt, this archeological mystery is for you. Fiercely independent Brit Amelia Peabody decides to spice up her life up by exploring Egypt via the Nile River. When she and a friend discover a pair of archeologists excavating the ancient city of Amarna, Amelia stumbles upon a bigger adventure than she'd bargained for. Between shady characters, ancient pyramids, and a rogue mummy, there's plenty of action to keep readers satisfied until the very end. With its witty satire of Victorian customs and suspenseful account of danger and intrigue, Peters' book makes for a very enjoyable read.
Rebecca
by Daphne du Maurier
While traveling abroad in France, a young woman meets and falls in love with the dashing but mysterious Maxim de Winter. After a whirlwind romance, they marry and return home, but Mrs. de Winter soon discovers that she's not welcome. The rest of the book is a delightfully tense drama as Mrs. de Winter uncovers the strange and haunting past of Maxim's first wife, Rebecca. A mystery that slowly builds to epic proportions, this is a must-read for every suspense lover.
The Five Red Herrings
by Dorothy L. Sayers
The seventh installment of Sayers's beloved Lord Peter Whimsey series—featuring the light-hearted yet brilliant society man, Lord Peter Whimsey—The Five Red Herrings is one of the best. When a painter on his fishing holiday is found dead, six different men become suspects for the murder. Whimsey must wade through a maze of perplexing and tangled evidence to eliminate the "red herrings" and bring the killer to justice. While Sayers is a wonderful author, don't start this book if you're looking for a bit of light reading. It's guaranteed to have you racking your brain to try to keep up with a complicated host of suspicious characters and possible clues.
Grey Mask
by Patricia Wentworth
Grey Mask is the first novel of Wentworth's prolific 32-book (!) Miss Silver series. Miss Silver, a retired governess who will remind readers of Agatha Christie's Miss Marple, uses her intelligence and observational skills to help Scotland Yard solve puzzling crimes. Here Miss Silver gets involved in a strange kidnapping case involving a sinister figure who always wears a grey mask.
Lady Molly of Scotland Yard
by Baroness Orczy
As a fan of The Scarlet Pimpernel, I was delighted to discover recently that its author, Baroness Orczy, also wrote detective fiction. Not only that, but she broke literary boundaries by being the first person to write about a woman joining the police force. This book actually contains a collection of twelve short stories about Lady Molly who starts out crime-solving in an effort to exonerate her fiancé and eventually earns a spot as a Scotland Yard detective.
They Came to Baghdad
by Agatha Christie
All right, I couldn't resist. While Christie holds the title of the world's most famous whodunit author, she also penned a few excellent thrillers, my favorite being They Came to Baghdad. The book follows the fantastic, high-adrenaline tale of Victoria Jones, an adventurer who unwittingly becomes entangled in an espionage intrigue of enormous proportions. Christie drew upon her own experiences living in the Middle East with her archeologist husband to create a realistic backdrop for the novel.