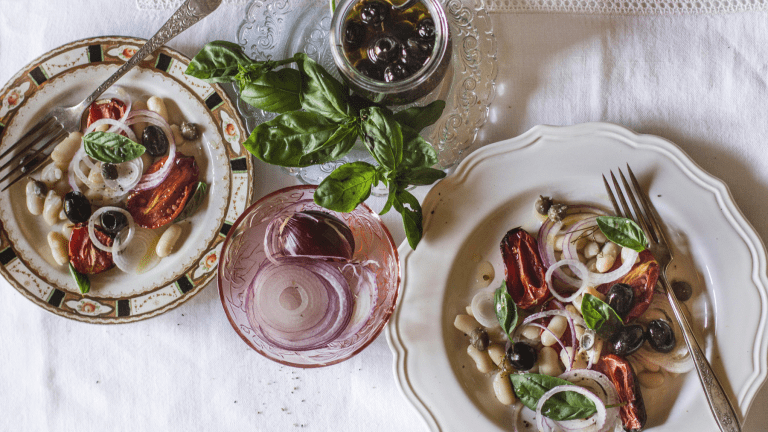 Easy Italian: Gluten-Free, Vegan Cannellini Salad
Cannellini beans are, in my mind, the very symbol of fall in Tuscany and summer in the beaches of Romagna. Also known as kidney beans, they are protagonists of most Tuscan hearty soups, like ribollita or minestrone. But those white, elongated legumes definitely represent one of the most common additions to many summer dishes in my hometown: Every year, my relatives would pick red onions from the garden, slice them into a big bowl of cannellinis, and add canned tuna in olive oil and the vinegar made from the leftovers of our wine. It has always been one of my favorite salads, but after seeing how expensive good-quality canned tuna can be outside of Italy, and with the perspective of embracing a more plant-based lifestyle, I decided to revamp this family classic a bit. The basil adds a wonderful fresh flavor, while the pickled olives and caper dressing replace, if not improve, the umami element represented by the tuna.
For an even better flavor, prepare this salad the day before and let it sit overnight in the fridge. You'll be left with a speedy, fresh lunch that is perfect for packing for the office or for the beach. I included suggestions to make it a complete, gluten-free, and vegan meal.
Mediterranean Cannellini Bean Salad
With roasted tomatoes, pickled olives, and fried capers
Serves 2
For the Salad:
10-15 cherry tomatoes
1 cup cooked cannellini beans
1 small red onion
pickled olives (recipe below)
1 big bunch of basil leaves
thick balsamic vinegar and extra-virgin olive oil, to finish
For the Pickled Olives:
3 garlic cloves
1 sprig of fresh fennel
2 tsp whole coriander seeds
1 tsp whole peppercorns
2 tsp dried thyme
1 bay leaf
grated zest of a lemon
1 tsp salt
1 cup black olives
enough olive oil to cover
For the Fried Caper Dressing:
1 Tbsp good olive oil
1 Tbsp salted capers, rinsed
salt & pepper
MAKE THE PICKLED OLIVES
01. Finely chop the garlic and fennel, and lightly crush the coriander seeds and peppercorns.
02. Make sure your olives are dry and start to layer some of the ingredients (except the bay leaf and the oil) at the bottom of a clean jar that can fit all of the olives and leave about an inch of space at the top. Add some of the olives, then proceed to add another layer of the spices. Continue this way until you use everything up, then tuck the bay leaf to one side of the jar and top with the olive oil until everything is covered.
03. Leave to marinate for at least a couple days and check the oil after a few hours, as it might reduce. Make sure the olives are always completely covered in oil, and they will keep for quite a long time in the fridge.
MAKE THE DRESSING
Gently heat the olive oil over low-medium heat and add the rinsed capers. Fry them until crispy. Adjust salt and pepper to taste.
MAKE THE SALAD
01. Preheat the oven to 390 F.
02. Cut the tomatoes in half, toss with salt, pepper, olive oil, and a sprinkling of balsamic vinegar. Roast in the preheated oven until cooked and caramelized, about 20 minutes (but it really depends on your oven and the size of the tomatoes, so keep an eye on them!)
03. If using canned beans, rinse them very well, and drain. Slice the red onion into thin rounds.
04. Toss the beans with the onion, tomatoes, some pickled olives, and torn basil leaves. Drain the capers from the oil and mix them in, then finish with some balsamic vinegar and extra-virgin olive oil. Adjust salt and pepper to taste.
05. To make it a complete meal, add a cup of cooked quinoa or brown rice and some nuts (preferably almonds or pine nuts) and seeds.