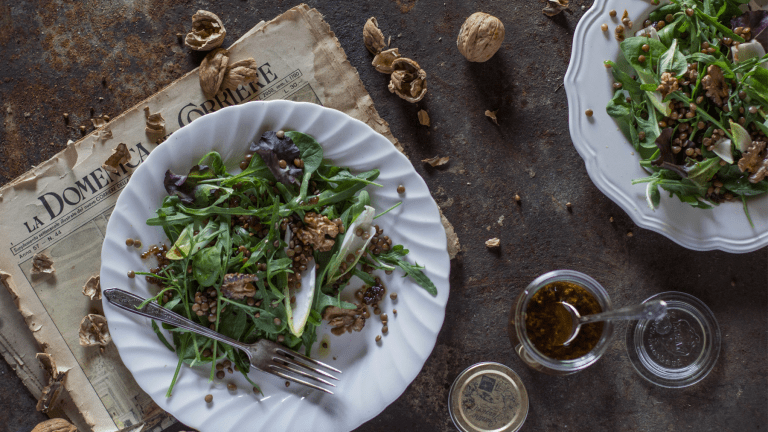 Summer Salad Recipe: Intense Balsamic Lentils & Spinach
Sometimes I can't help but think of legumes as the kid at school who always gets picked last when assembling a soccer team⎯but who is actually the one with the most potential. Many people are intimidated by legumes, but they have tons of upside: they're nutritious, they're full of protein and fiber, gluten-free, versatile enough to be added to almost any recipe⎯and they're cheap!
In the summer, when I crave fresh and easy meals, salads are a great solution. Legumes pair perfectly with leafy greens and work well with other gluten-free grains for a full, satisfying summer meal at the office or the beach.
This recipe is inspired by some of the most common ingredients in the Emilia-Romagna region of Italy, where balsamic vinegar is produced. To make this recipe even easier you can use canned legumes (dried are always better when possible). The lentils in this salad don't need any soaking, which keeps the prep hassle-free.
LENTIL SALAD
(serves 2)
For the salad:
1/2 cup dried Lentils
1 bay leaf and 1 garlic clove
A big handful of baby spinach and arugula for each plate
Walnut halves, liberal amounts
3 tbsps buckwheat groats
For the oniony balsamic dressing:
1/4 cup cipollini preserved in balsamic vinegar, chopped finely (or use the same amount of chopped shallots if you can't find these)
2 tbsp balsamic vinegar
A drop of honey
A squeeze of lemon juice
A pinch of white pepper and sea salt
3 tbsp extra virgin olive oil
2 tbsp light oil, either olive or vegetable like rapeseed
MAKE THE DRESSING
Chop the cipollini as finely as possible, then combine all the ingredients in a jar and shake it well. You can also put everything in a food processor. This dressing will last two to three days in the fridge if made with shallots, and over a week if made with balsamic cipollini. This should be enough to dress four to six salads.
MAKE THE SALAD
01. Preheat the oven to 390 degrees. Toast the buckwheat and walnuts for 8 to 10 minutes, until the buckwheat is crispy and the walnuts are golden brown. Be careful, as both burn very quickly!
02. Boil the lentils in a cup of water, along with the garlic and bay leaf. Boil, uncovered, until tender, but not mushy. This time can vary between 20 and 30 minutes, depending on the quality of your lentils. Once done, discard the garlic and bay leaf and drain well.
03. Wash and dry your greens well. Toss them with the dressing, crumble the walnuts on top and toss with the lentils and the crispy buckwheat.
04. If you're not keeping the salad vegan, add some fresh burrata, Parmigiano shavings, or prosciutto crudo. In the fall, sautéed mushrooms or porcini make for a great addition.