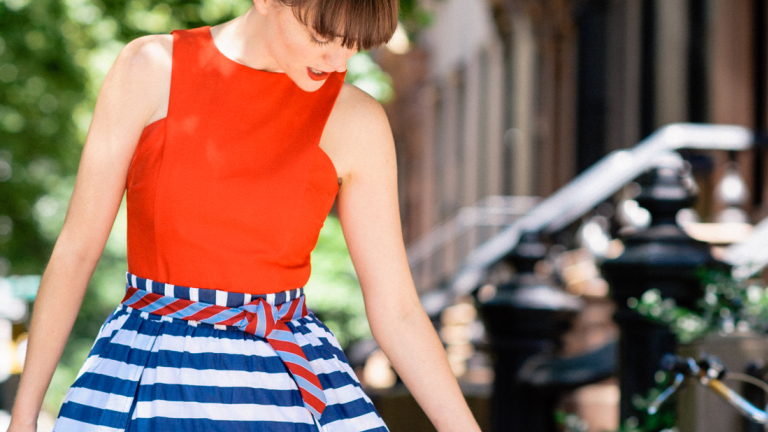 Style Challenge: How to Pull Off Red, White, and Blue
Between the World Cup and the Fourth of July, we have plenty of occasions to sport the red, white, and blue for this week. We love bringing together amazing women with stellar style to apply their genius to tough trends, so for this month's Style Challenge, we recruited Em of The Refined Womanand Hilary Rushford of Dean Street Societyto inspire us to sport a super patriotic look.
"If you're going to do something crazy like wear a gigantic tulle skirt and go red, white, and blue, then it's best to stick to solid colors. It lets you be bold without it feeling too much like a costume. I also like to balance out the volume of the skirt with only a few accessories⎯one or two bracelets at the most.
This is the kind of outfit that makes me happy⎯fashion should be fun, break rules, and make people smile. This type of outfit would work with any long-sleeve button-down you have on hand. If you happen to get a white tulle statement skirt like this, the options for what you can wear it with are endless! How great would it look with a chambray top tied at the waist?" tulle skirt (similar at Alexandra Grecco) / wool floppy hat , American Apparel / silk tank, Ayr / red blouse (similar at Farfetch) / blue flats (similar at Zappos) / gold link bracelet, Margaret Elizabeth.
"This bold striped skirt was obviously a festive choice, but I didn't have a red top, so I used this dress which adds extra fullness to the skirt beneath. The silhouette was so strong on its own, I didn't want to make it fussy by adding a statement necklace⎯I just went with some simple gold rings. Plus going easy on accessories let me throw in the extra kick of the striped heels without feeling too costume-y for a day celebrating in the park. If you're afraid of being 'too much' for a color-themed holiday, I say embrace the bright hues and go for ladylike chic simplicity everywhere else." dress, BB Dakota (similar) / skirt, Asos / shoes, thrifted
All photography by Kat Harris of The Refined Woman