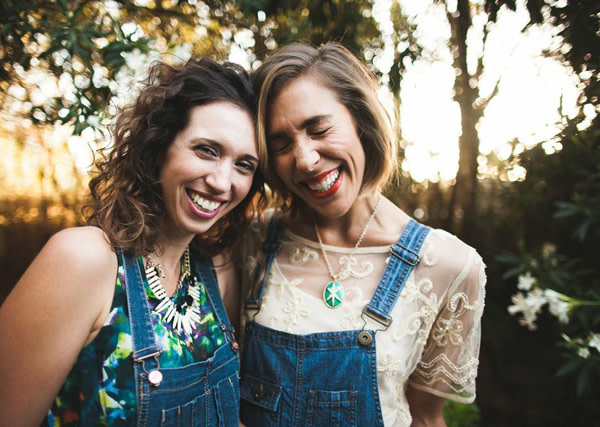 Drumroll please! . . . We're excited to announce a brand new fashion series here on Verily: Style Challenge! Each month we'll gather amazingly talented stylists and give them a tough trend to pull off. The idea is to inspire our own creative juices when it comes to assembling a non-traditional outfit. It's good to think outside the box once in a while, no?
So what better way to kick off the reoccurring column than with overalls?
Yes, overalls. You may have seen them everywhere from music fests to the hippest neighborhoods. But, how exactly is one to wear these full-body denim suits without looking like a farmhand? Our dear friends (and friends themselves!) Jessie Artigue of Style & Pepper and Alex Evjen of Ave Styles accepted the challenge. For this first Style Challenge, we put each stylist at each other's mercy! We asked them to each take a pair of overalls and style them for one another. And, we have to say, they killed it. We're pretty convinced that this trend isn't solely for country folk. When shopping for overalls, try a darker denim which is slightly less casual, and the fit shouldn't be too baggy or too tight, but lightly fitted.
Check out their style tips below, and let us know your favorite look!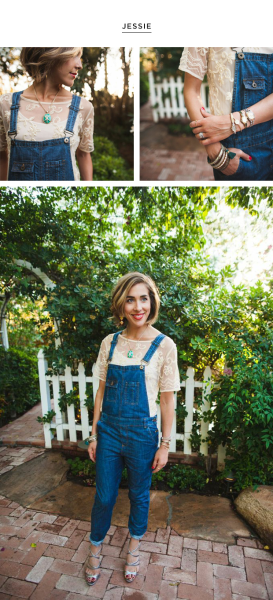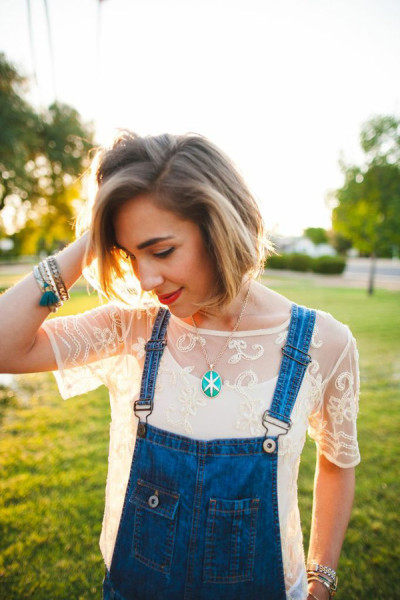 Overalls, Asos / Top, Urban Outfitters / Jewelry, Jessie's own.
Alex Says:
"Overalls have a boyish quality that can be unappealing to women who resonate with an ultra-feminine style. However, with the right top and accessories, you can transform overalls into a ladylike outfit. I chose an ivory, embellished see-through top and an emerald pendant to add some color. The glitz of the beads and jewelry automatically provides some glamour to balance the tomboy nature of overalls. The bit of skin showing through along with strappy heels adds a femme flair that a plain T-shirt and sandals could never do."
Follow Alex on Instagram/Twitter @avestyles / Website / Pinterest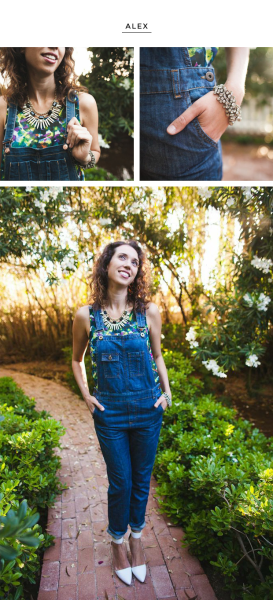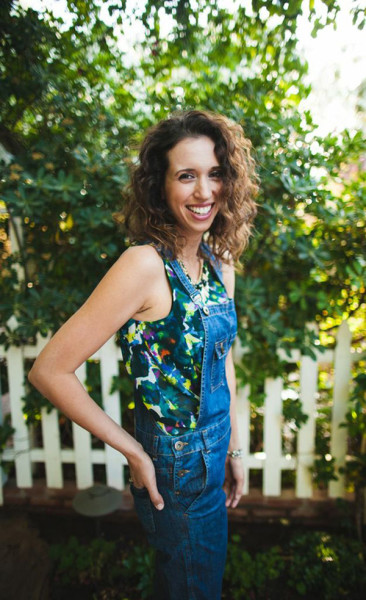 Overalls, Asos / Tank, Nordstrom, similar one here / Heels, Jeffrey Campbell, Solitaire / Necklace, Alex's own.
Jessie Says:
"Alex's modern take on style is always such a fresh blend of tomboy-ish trends with artistically feminine details. I knew that the overalls would naturally give us that quirky element that she pulls off so well, so I added a blousy chiffon tank in a brushstroke pattern to provide the perfect bit of balance that we needed. Knowing that she also loves modern design, I chose these big-impact bright white high heels for even more of a contrast to the utilitarian bottoms. The jewelry that she wore to the shoot was just screaming to be used as the icing on the cake, so we stuck with the shimmering statement necklace to pull everything together and keep things looking high-style."
Follow Jessie on Instagram/Twitter @styleandpepper / Website / Pinterest