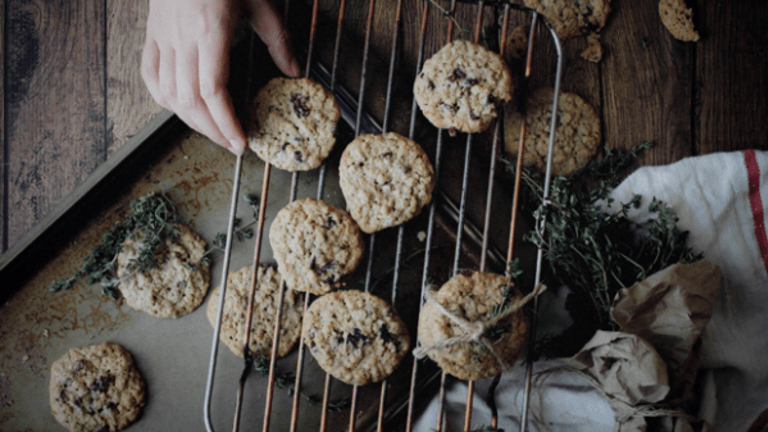 St. Paddy's Day Recipe: Thyme & Sea Salt Chocolate Chip Cookie
St. Patrick's Day is upon us. Glittery shamrocks and green beer may be your go-to celebration—but for those of us with an insatiable sweet tooth, a St. Paddy's Day dessert may be in order. Without further ado, I present to you: Thyme and Sea Salt Dark Chocolate Chip Cookies.
Thyme is a staple herb in Irish cuisine. It pairs beautifully with corned beef and other meat dishes due to its exquisitely earthy flavor. Luckily for us, it also serves as a fragrant companion to dark chocolate. These two robust ingredients topped with sea salt makes for a deeply flavorful cookie that is silky on the inside and crunchy on the outside—perfect for sharing on this day of indulgence and feasting.
Thyme and Sea Salt Dark Chocolate Chip Cookies
makes 3 dozen
What You'll Need:
2 1/4 cups all-purpose flour
1 cup unsalted butter, room temperature
3/4 cup granulated sugar
3/4 cup packed brown sugar
1/2 tsp baking soda
1 teaspoon table salt
2 tablespoons fresh thyme leaves (or 1 tablespoon dry thyme)
1 teaspoon vanilla extract
2 eggs
2 cups dark chocolate, roughly chopped into large chunks
1/2 tablespoon coarse ground sea salt
Directions:
01. Preheat the oven to 350°F (176°C).
02. In a medium to large bowl, combine the all-purpose flour, thyme, baking soda, and table salt. (Be sure to use the 1 teaspoon table salt, not the coarse ground sea salt here.) Whisk until fully blended and set aside.
03. In a large bowl, cream together the butter, granulated sugar and packed brown sugar. Add in the eggs, one at a time. Add the vanilla extract.
04. Add the wet ingredients into the dry ingredients. Whisk together until fully blended. Fold in the dark chocolate chips.
05. Scoop out tablespoon-sized portions of cookie dough onto a lined baking tray and sprinkle with sea salt.
06. Bake for 10-12 minutes, until golden brown.
07. Let sit for 5-7 minutes before transferring to a wire rack to cool completely.
Enjoy these cookies with a cold glass of milk or a hot cup of sage or rosemary herbal tea.