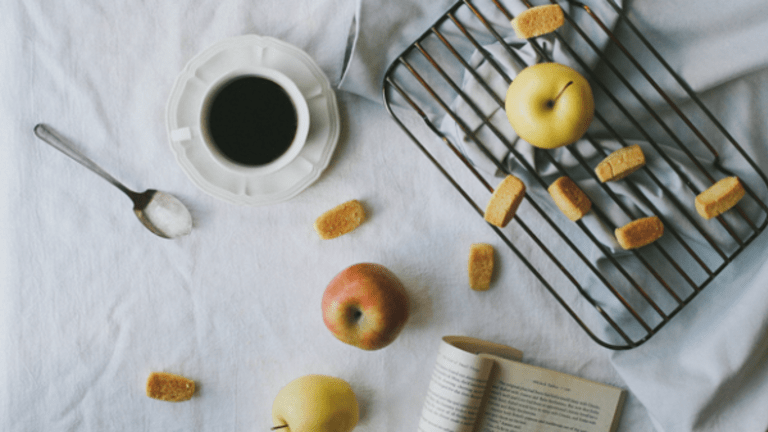 Try These 4 Easy Morning Rituals to Set Yourself Up For a Good Day
The best way to tackle our daily resolutions is to greet each day with intention, fluidity, and grace.
With the New Year afoot, many of us have plunged headfirst into a pile of ambitious resolutions—only to find these goals are constantly under the headwinds of menial excuses, life circumstances, and "Oh, but I'm having such a bad day...". The key to success? A meaningful morning.
I believe the best way to tackle our daily resolutions is to greet each day with intention, fluidity, and grace. By allowing ourselves to claim the morning hours—for a moment of peace, creativity, and intention—we become more inclined to achieve our goals and less inclined to resent them. Here are 4 simple ways in which we can cherish the morning hour and take on the day.
01. Wake up 30 minutes earlier.
It's truly remarkable how much an extra half hour eases the mind and quells the spirit. Try waking up thirty minutes earlier than usual so you can perform the rest of your morning routine in an unhurried fashion.
This also frees up time for any resolutions you may have had in mind. Were you aiming to cook healthier breakfasts? Spend those extra minutes chopping fresh fruits and vegetables to put through a blender. Were you aiming to stick to a particular skin care regimen? Time to lather up, lady!
02. Open the window.
Fresh air cleans our lungs and soaks our brains in oxygen, allowing it to function at a significantly higher capacity. Although many of us do not have the luxury of going on brisk morning hikes through the woods, we can get a healthy dose of oxygen by opening the window and allowing our bedrooms to ventilate. The natural chill will wake your senses and bring clarity to your mind.
03. Tend to a living thing.
Caring for another life reminds us that other lives depend upon our health and wellbeing. It helps us realize that we are part of a larger universe and allows us the innate joy of being able to sustain others. Invest in a small indoor plant that requires moderate tending and a mist sprayer to prevent overwatering. Spritz the plant every day while acknowledging the changing coloration and growth.
04. Allow yourself "one cup."
I usually allow myself the duration of "one cup" of coffee to sit down and do something creative before working. Love writing? Jot down a short observation or diary entry. Love drawing? Invest in a sketchbook and draft a rough sketch. Mind you, by "cup" I mean a small teacup—a placeholder of approximately 20 minutes.
Give it a try! I find these 4 little routines foster a greater sense of control over how my time is spent and serve as a gentle reminder to strive to lead a proactive life, not a reactive one.